Ice Hockey School
The city of Kladno can be proud of very rich history when it comes to ice hockey - two dozen world champions, five Olympic champions, four Stanley Cup winners and hundreds of excellent hockey players started their successful international careers in Kladno. Rytíři Kladno (Knights of Kladno) ice hockey team, under the management of the club owner Jaromír Jágr, operates a unique hockey camps specializing exclusively on improving the stickhandling and shooting techniques.
Holiday camps run in weekly sessions and they specialize on improving the stickhandling and shooting techniques. Individual training sessions are coached also by NHL players!
The camp offers a two-phase daily training on ice and on land, daily video analysis of the training, unique complementary and leisure activities, skill competitions and special events with NHL players and major league hockey players of the Rytíři Kladno team.
Camps for goalies specialize on optimization of posture, skating in goalie position and in regular skating position, technology and economy of actions, stickhandling, game opening, agility and movement coordination.
Basic factors for maximum efficiency of the training:
We concentrate exclusively on precise coordination of upper and lower limbs
We want feet and hands to work independently in the best possible movement coordination
We focus on the largest possible number of repetitions of each movement structures
We want to achieve maximum efficacy in terms of movement automation
---
About the club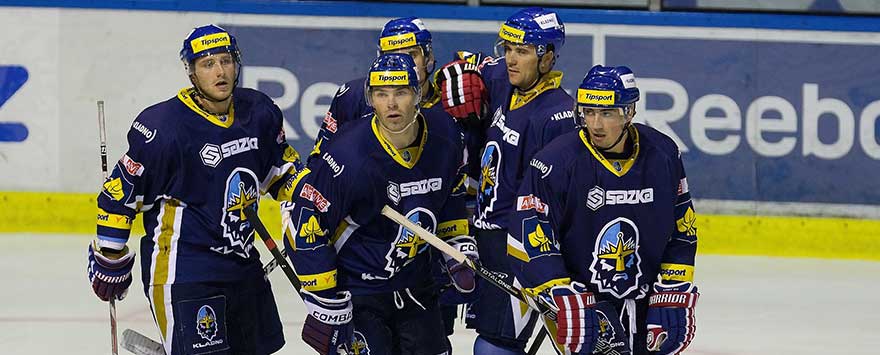 Rytíři Kladno hockey club plays the major Czech competition league called Tipsport Extraleague. Since 2011 the majority owner of the club is one of the best players of all time and sports icon Jaromír Jágr. The team follows the rich history of a very successful six-time league champion and a winner of European Champions. This famous club, which raised a number of hockey stars, also puts great emphasis on quality work with junior players. It belongs to the Czech Ice Hockey Federation Academy. It benefits from services of professional coaches and under the supervision of Jaromír Jágr incorporates the latest training aids and methods.
Location – Statutary city of Kladno
Statutory City of Kladno has 67,115 inhabitants, which makes it the largest city of the Central Bohemian Region. It is located only 25 kilometers northwest of the Czech capital Prague, near Vaclav Havel international airport. The traditional hockey city boasts a number of top modern sports venues, including athletics stadium Sletiště or sports hall Bios, where the hockey club holds its land training

Accommodation and boarding

Clients are provided with accommodation near the ice ring. Children are under constant supervision of au-pairs and coaches. We put emphasis on providing quality meals (breakfast, lunch, dinner, snacks, fruits) and drinks throughout the day.
---
Conditions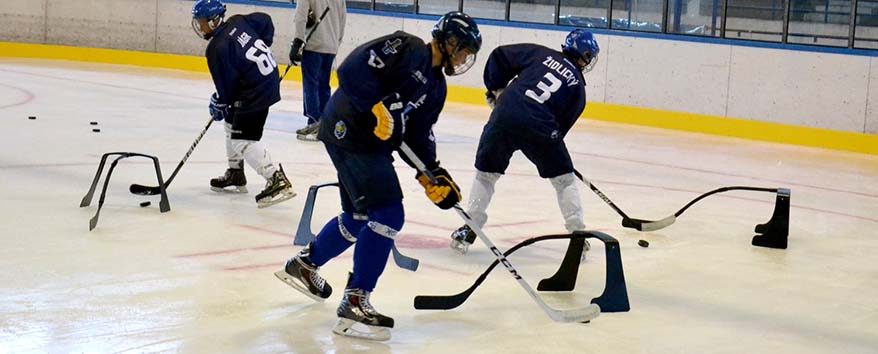 1. Participation - conditions
The hockey school participant (or his legal representative) declares that he will voluntarily submit to discipline of the planned activities, as well as during relaxation time, meals, daily routine, sleeping schedule and hygiene.
The hockey school participant (or his legal representative) declares that he will handle all items in the accommodation area and all available fitness equipment carefully, with no intentional harm.
The hockey school participant (or his legal representative) agrees to submit to the discipline of coaches and au-pairs. He agrees to be expelled from a summer hockey camp without any financial compensation in case he commits a breach of discipline, despite repeated warnings.
The hockey school participant (or his legal representative) declares that he participates in the hockey school at his own risk. In the case of injury there is no valid claim for damages or any other type of claims against the school management.
2. Payment conditions
A deposit of 50 percent of the total amount shall be transferred to our account :
Beneficiary: Hokej Kladno s.r.o.
Address: Petra Bezruče 2531
City: Kladno 272 01
Country: CZ
Name of Bank: Komerční banka
SWIFT: KOMBCZPPXXX
IBAN: CZ5801000001074692630297
Number of account: 107-4692630297
Code of bank: 0100
We do not send out payment proofs upon receiving money – payment can be verified by phone.
The second part of the payment can again be transferred to our bank account (no later than one week prior to the start of the hockey school).
The remaining amount can be paid when boarding the hockey school, after a preliminary phone agreement.
3. Cancellation fees
Cancellation fees are calculated from the total amount prior to starting each session:
3 weeks - 30 %

1 week - 100 %
4. Discounts
We offer the following discounts:
Sibling discount of 5% - applies automatically when scheduling for 2 or more persons for one session.
Quantity discount 5% - - applies automatically when ordering 2 or more weekly sessions
Quantity discount and sibling discounts are cumulative.
5. School is operated by:
Rytíři Kladno
Hokej Kladno s.r.o.
ČEZ STADION Kladno
Petra Bezruče
2531 272 01 Kladno

IČ:24126934
DIČ:CZ24126934
Case number 181024 C, Municipal Court in Prague

Contact information:
Petra Kvasilová
School coordinator

Tel.:+ 420 607 068 084
Fax.:+ 420 312 248 467
petra.kvasilova@rytirikladno.cz
hokejovaskola@rytirikladno.cz

We would be happy to answer any questions you may have on weekdays between 9 to 12 am at the above telephone number.
6. Equipment needed for weekly camp
Complete hockey equipment (jersey participants will receive on-site), one extra stick for stickhandling training off the ice, sportswear, footwear for training in the gym or outdoors, bathing suits, and personal hygiene items.
Insurance card and certificate for insurance!!!
CONFIRMATION OF PAYMENT!!!